To capture leads on your website is CRUCIAL for the success of any business. Leads are the first step to get that essential revenue. No leads, no sales!
So, it's no surprise that the major goal of most websites is to capture leads. The first step to achieve this is getting the attention of people and making them interested in your business.
Once you got a lead, you can move them through the stages of your sales funnel and finalize the sale.
In this article, we're going to cover several ways for how to do it more effectively.
Run a promotional giveaway
Promotional giveaways are a standard tactic that businesses use in order to capture leads. To make it more effective, you need to run a giveaway that is relevant to a specific audience. When you know their interests better, it'd be easier to pick the prize and decide how to market the giveaway. An interesting idea you can use is to include a quiz that visitors can complete for a chance to win.
As an additional tip, you can add a sense of urgency to the promotional giveaway. In other words, you could make it a limited time offer. This could put positive pressure on your visitors and motivate them to participate. Of course, the offer itself needs to be compelling and of enough value.
If the offer is exciting and valuable people will have a good reason to enter a contest. Here's an example from Jack Stack Barbecue and their promotional giveaway that offers clothes as a gift:
Create quality contact forms
The most usual way to capture leads is, of course, the contact form. When visitors fill out this type of form, they're handing you over their contact information. From there, you could use that information to further build a relationship with your leads. The form itself should be simple. At first, only ask for basic details like name and email address.
A great way to make your contact forms more effective is to provide your visitors with free value. The idea is that in exchange for giving you their information, your visitor will be getting free value in return. This could be a simple offer such as an eBook that would be beneficial to them.
As for the delivery method, you can email the download link with an automated process.
In the following example by Guideline, you could see how an effective contact form looks like. They only ask you for the basic info and you get to schedule a demo in return:
Bonus tip: Create an eBook to capture leads
One of the best ways to capture leads is to create an eBook that you can offer to your visitors. According to statistics, 65% of B2B businesses make eBooks an important part of their marketing efforts. The eBooks you create could be a way to offer tips, details about your products, or other useful information. Just make sure you have a target audience.
You need to have a specific audience so that your eBook reaches people who will benefit from your products or services. When you have the needs of your visitors in mind, you'll know what your eBook is going to be about.
Once you have a quality eBook, you will need an adequate landing page that prompts the visitors to download it. 
Have effective calls-to-action
The calls-to-action on your website are crucial because they let your visitors know what action you want them to take. Always make the calls-to-action very specific and clear. If you're providing the visitors with an offer, for example, they should know exactly what they'll be getting in exchange for giving you their contact information.
The CTA buttons on your website need to be visually appealing and they also need to stand out. You should use colors that are contrasting from the rest of the page. When the calls-to-action are properly placed and easy to notice, your visitors are more likely to click on them.
Keep in mind that our tool DragDropr allows you to easily design any calls-to-action of your liking. In fact, here's an example of how we have put an effective call-to-action into practice: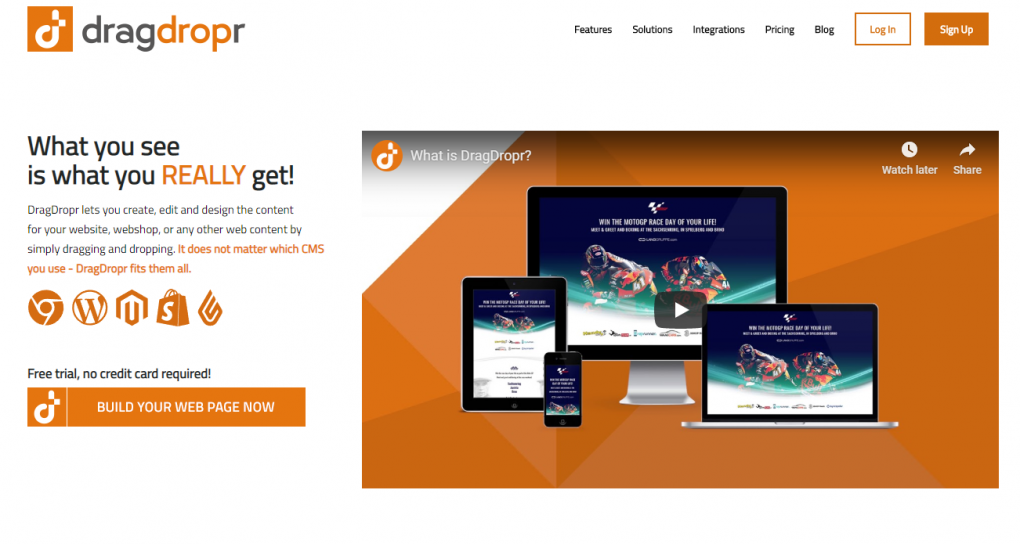 Make use of pop-ups
Another interesting tool that you can use to capture leads is pop-ups. These have the same goal as your forms with the difference that they appear suddenly on the screen. 
Pop-ups are usually a small window that has the basic elements of design, headline, but what's also important is timing. Statistics show that 15 seconds is enough time in terms of how quickly your overlay should appear.
Aside from regular pop-ups, you should consider using the so-called exit pop-ups. These are designed to appear as your visitor is about to leave your page. In other words, they serve as sort of the last chance for you to get that person's information. To capture leads with exit pop-ups, it's advised that you make them more detailed. Therefore, make sure they have a convincing offer.
How to grab emails, few more ways.
Here is a great example by Varley. In this pop-up window, they have an awesome discount offer and are only asking for your email address. The design is also simple and captivating:
Provide a live chat
Many people who visit your pages will have certain questions and need information in regards to your products or services. A live chat is a great way for you to provide those answers for them. And in the process, you could get their contact information and thus convert them into leads. Nowadays, people are used to seeing a live chat, so you should meet that expectation.
A live chat should be provided on your top-visited web pages. That's where your potential leads are most likely to need your assistance. Of course, a live chat could also work as a part of your customer support. Therefore, you may use the traffic you get on there to also capture leads.
To add a live chat option to your web pages isn't expensive at all. You could use services like LiveChat and get billed annually or per month. Their starter plan is just $16 monthly per seat.
Use a lot of well-designed landing pages
Landing pages are an amazing way to capture leads. These are standalone web pages that visitors land on after discovering your brand through a marketing campaign of yours. Landing pages get the visitors to take a particular action such as completing a form and giving their contact information. 
In regards to their design, landing pages should have no navigation and a clear purpose. Standard elements include a headline, a subtext, a copy, at least one CTA button, and more. You could also add quality images or videos in order to make the landing page visually appealing.
Statistics show that if you utilize more than 30 landing pages, this will get you a lot more leads.
Include the option for visitors to schedule a call 
A very interesting way to capture leads is to provide your visitors with the option to schedule a call. How this works in practice is that you include a "schedule a call" button on your website. When a person clicks on it, they see a calendar with available times for them to schedule a call. The way you could implement this button is to include it on your homepage or in your blog posts.
The same advice for regular calls-to-action applies here as well. Make sure that the goal of the CTA is specific and clear. You may also make it a compelling offer and inform your visitors that they could get a free consultation. This is a great way to capture leads. 
The setup is easy and inexpensive, and you could use a service provider such as TimeTrade. They're great because your visitors can schedule appointments with you at any time, anywhere:
Link to your website on social media
Make sure that you provide links to your website and blog posts on your social media profiles. That way, the followers you have on social media will get the chance to also check out your website. What you can do on Facebook, for example, is to pin a post to the top of your page that leads to your contact form. Or you can also use Facebook ads to send people to your website. 
You could also provide links to your social media profiles on your website and implement properly placed buttons. These can allow the visitors to "like" your Facebook page or "follow" your Twitter account. You can even provide them with additional content if they click the buttons.
In the example below, you can see how using Twitter ads can help you to capture leads:
Do a lot of testing
Sometimes, it's the small details that can make a huge change. For example, when you create a certain landing page or a call-to-action, these will have a specific design. Well, minor changes in their design could potentially make a big difference. 
If you perhaps test different colors or use of words for your calls-to-action, you may realize that one version captures more leads than the other. 
The same applies to other elements, so remember testing can improve your click-through rates.
Showcase testimonials and trust badges
You need to look for ways that will make your website and brand feel secure. To capture leads on your website means that your visitors need to give you their contact information. Well, they may be reluctant to do so unless they find your website trustworthy. This is where social proof comes in, and you could include testimonials and trust signals.
If your visitors are able to see that other people have had a positive experience interacting with your brand, they'll be more likely to do so themselves. Testimonials are a great way to showcase this, but you could also include other accolades and recognition. 
You can also implement trust badges to help your visitors feel more secure about giving you their personal details.
Final thoughts
Your website is designed to serve many purposes and one of them should definitely be to capture leads. That's why it's important that you optimize your website in such a way that to capture leads is made easier. 
In this article, we have covered several ways for how to do that more effectively. And what these have in common are things like keeping it simple, setting the right expectations so that the visitors know what they're getting, as well as ensuring them they can trust you with their info.
Now that you know how your website should be optimized in order to capture leads, remember that our tool DragDropr can help you to put these tips into practice. Whether it's about designing a landing page, a pop-up, a contact form, calls-to-action, compelling forms, or any other important elements – using DragDropr will make it an easy job.
DragDropr comes with numerous templates that can get you started, but it's also very simple to create any other designs that you may think of.
https://www.dragdropr.com/wp-content/uploads/2019/08/web-1738168_1280-e1567174401552.jpg
765
1020
Aleksandar Stanisic
https://www.dragdropr.com/wp-content/uploads/2017/12/DragDropr_Logo_Top.png
Aleksandar Stanisic
2019-09-02 15:39:47
2019-10-23 12:23:16
How to capture leads on your website