According to a recent study by Hubspot, organic search equates to 94% of all web traffic, and the first position in Google accounts for 34.36% click-through-rate on desktop and 35% for mobile.
If you are a new entrepreneur with a freshly built website, it can be hard to get any traction with Google in the beginning.  
The good news is, SEO has a great potential to be one of the most important factors in driving a tremendous amount of traffic to your website in its lifetime.  
The bad news is that it can take six to nine months or longer to rank for your targeted keywords, if at all!
So why does it take so long to get ranked on the first page of Google? 
To answer that question, you need to understand what goes into SEO and understand that there are several variables that go into how long it will take to get your website ranked. 
1. Link-Building Takes Time
Link-building is arguably the most important ranking factors in SEO.  Link-building is a skill that you have to develop over time.
You can read about it and study it all you want, but unless you actually put in the time and work, it won't do much good.
This graph below by Ahrefs shows the pace at which the number one ranking page for query "keyword research" gets links over time.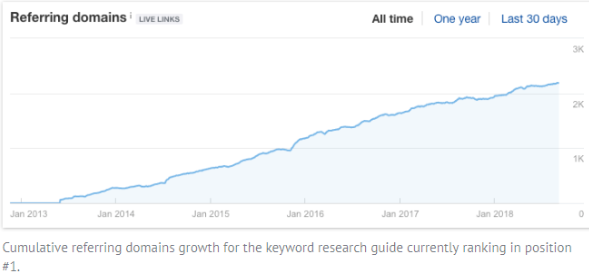 This is why it's probably worth the money to hire a link-building company to outsource this type of "grunt work." 
You want to try and build as many high quality, high domain authority (DA) links as possible.  But keep in mind, the pace at which you build links is as important as quality and quantity.
You can compare the above #1 ranking site's link growth to the #8 site for the same keyword and understand the importance of slow and steady link-building.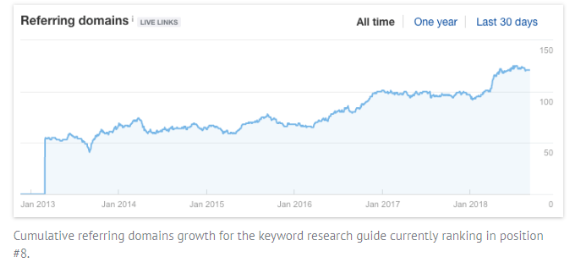 This is why it takes so long, considering that link-building is one of the main factors in SEO.  Google forces you to pace yourself and build authority and establish credibility in the marketplace naturally over time. 
In the end, having more relevant links than your competition will benefit you and give you a better chance at ranking your website.  But nothing is ever guaranteed in SEO, that's the big downside to the entire strategy. 
2. On-page SEO
On-page SEO is a technique that involves optimizing various page elements on your website for the search engines so that they can find your website easier and determine what it is all about.  
Listed below are the main techniques you can perform to optimize your site for search engine ranks. 
Optimize your Title Tags

Write compelling Meta Description Tags

Enclose your most important words in H1 and H2 tags

Make sure to tag all of your images with relevant keywords

Domain Name optimization

Use Anchor Text properly when linking internally to other pages in your site.

Make sure the keyword you are optimizing for is in the first 100 words of your page or blog post.

Use Latent Semantic Indexing (LSI) keywords throughout your page.

Make sure your website is mobile-responsive.

Don't be afraid to link outside of your website to other relevant articles, citations, or statistics for your industry.

Internal link-building can make or break your website.  Make sure you have a solid internal linking structure.

Make sure your site loads fast by testing with

Google's page speed testing tool

.
If you have a WordPress site and you've already built it, you can go back and perform some of the techniques above using the Yoast SEO plugin.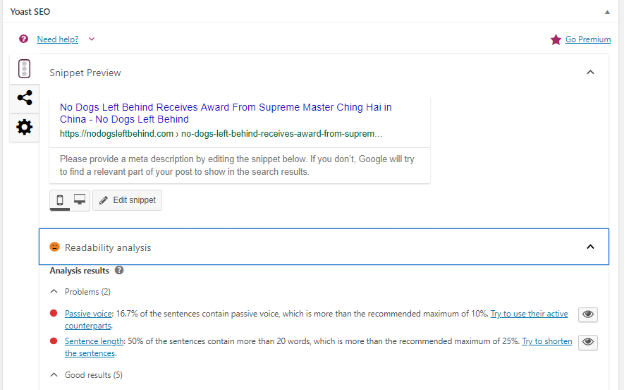 3. It Costs Money To Do SEO
Believe it or not, just as with Google Ads, the more money you have to spend on SEO the better.  Most entrepreneurs got into business because they had a dream of making it on their own, not doing SEO on their website.
Your job as an entrepreneur is to focus on running your business, not necessarily learning the ins and outs of SEO.  
That's what the experts are for.  You can hire SEO agencies to do the heavy lifting for you such as link-building and content writing for you.  
But, of course, this will cost money. And when you are starting out, I'm guessing your budget might be a little tight right now.  
So, therefore, dedicate as much of your budget to outsourcing SEO as you would like to right now.
Yet, as time goes on, you will see how important it is to outsource link-building. Not only do you not have time to do it, you probably don't know exactly how to do it.  
You don't want to wait to start building links to your website.  Try and dedicate a portion of your budget to link-building in the beginning.  
You will thank yourself in a year from now when you have 40-50 links built to your website.
4. Google's Algorithms Change
Google is always testing new ways to make their content delivery better for its users. Therefore, you can never know what to expect from them.  Your site could be moving up and up, then one day it drops another 20 spots.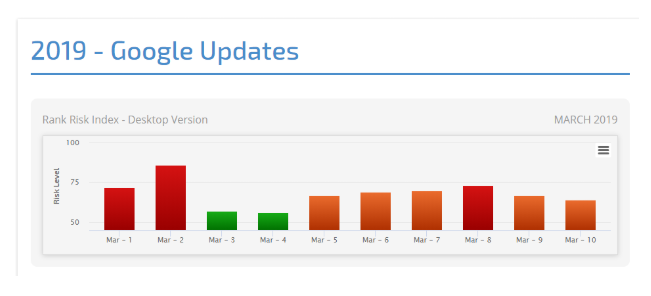 The graph from Rank Ranger shows you the "risk levels" from recent changes in Google's algorithm so far in March 2019.
You can take another example Sept 2018 where a minor confirmed update was detected using the rank tracker index tool from Rank Ranger.
Google loves to keep us site owners guessing because it does not want anyone to be able to manipulate the search engines.  
The Hoth recently put out this great guide called, "The Ultimate Guide To Google Update History" to help site owners understand the updates better.  
5. Competitor websites have more seniority than you do
Since you are a new entrepreneur, you are going to have to try and out-seat your competition on the first page of Google.  
You are dealing with websites that have older domain names, higher Domain Authority, more content, more social shares, and more inbound links.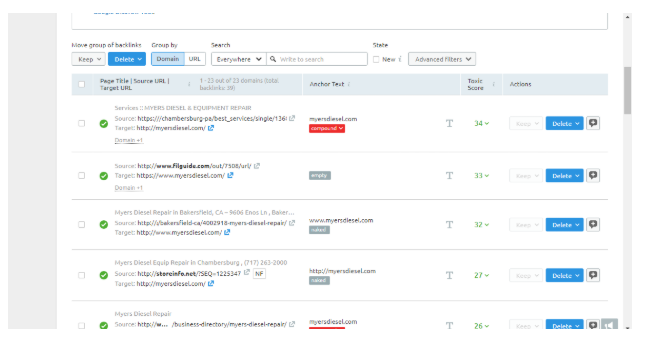 The best way to find out what you are up against in the beginning is to use an SEO tool to analyze your competition and their link-building strategies. 
The other thing to keep in mind is that new players are coming into the market just like you.  
Depending on your industry, there could more than others.  Always keep an eye out on your competition if, and at what rate, they are implementing SEO on their website.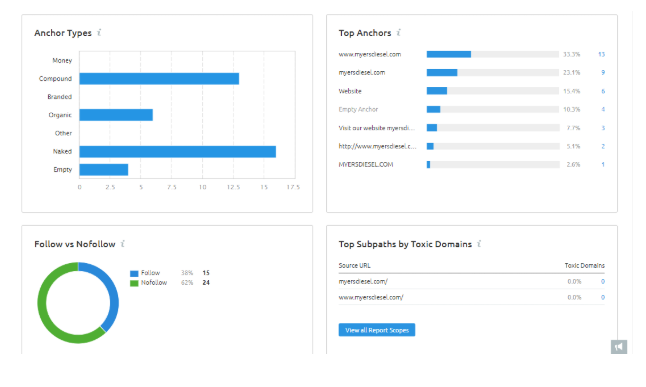 Again, you can use SEMRush to find out how many in-bound links your competition has and where they are coming from.  You can also use a very popular link-building tool called Ahrefs for link-building analysis. 
6. Content Is King
One of the most important aspects of getting your website ranked in Google is the content that's on it.  
How else is Google going to know what your business is about unless it has plenty of content for the bots to crawl?
Don't be afraid to build out more and more pages to your website as well,  but make sure the content is extremely good. According to MarketMuse, comprehensive content significantly outperforms shallow content.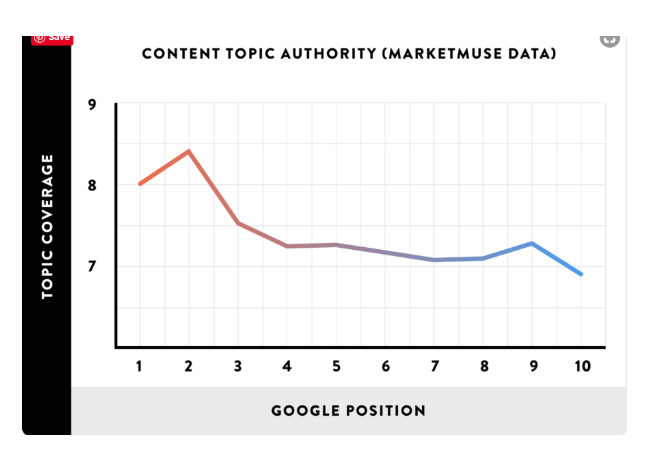 Typically, when writing better content, it involves creating longer, more in-depth web pages or blog posts.  
In another important finding from the case study by Backlinko, the average Google first place result contained 1,890 words.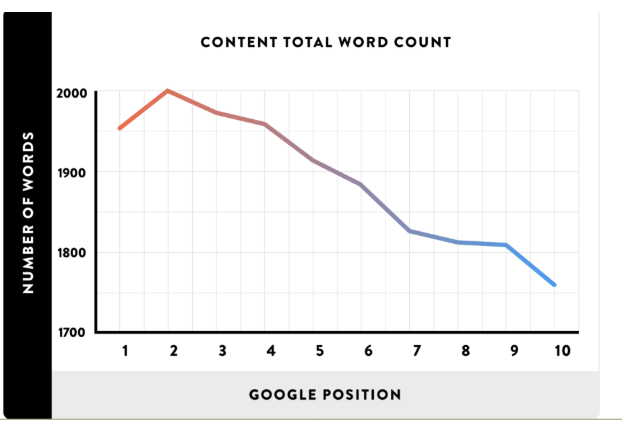 Remember, your Home page isn't the only page on your website.  Each one of your pages represents a new opportunity to rank on the first page of Google.  
The trick is that you do all of the necessary on-page optimization techniques mentioned above for all of your pages.
Conclusion
Eventually our business motive is to gain organic traffic which means less spending on paid avenues. SEO get us the real traffic. 
What we need to understand however is that SEO is going to take your website some time to gain some authority in Google's mind.  
Google needs to know that you are a company to be trusted.  This doesn't just happen overnight.  
SEO is an ongoing process so don't get overwhelmed by everything I just told you.  No matter whether you outsource your SEO efforts or learn how to do it yourself, start now!  You will thank yourself later!

Roberto Garvin  
I'm Roberto, co-founder of Mofluid. It is absolutely amazing to see how technology continues to evolve, from email to browsers, search engines, mobile, AI and now blockchain. I am fortunate to witness it all. Really excited to see what's next. Twitter – @mofluid / Facebook – @mofluid
https://www.dragdropr.com/wp-content/uploads/2017/12/DragDropr_Logo_Top.png
0
0
Aleksandar Stanisic
https://www.dragdropr.com/wp-content/uploads/2017/12/DragDropr_Logo_Top.png
Aleksandar Stanisic
2019-10-28 16:21:29
2019-10-29 13:26:07
Why Young Businesses Should Invest In SEO From Day One